My intention, as I begin this entry, is to discuss diners. I can't say exactly why it is that I'm drawn to them. Perhaps it is all that shiny chrome. Could be the music available on those wonderful tabletop jukeboxes transports me back to a time before I existed. I summagine that I'm mostly drawn to diners for their comfort food including cheeseburgers, fries, and Coca-Cola. I also enjoy their sensible hours and the fact that you can begin your meal at a diner with desert, and no one seems to mind.
Undoubtedly, my favorite diners include the 5 & Diner (Phoenix, Arizona) and Doggie Diner (Woodridge, Illinois). I've dined in authentic railroad dining cars on Amtrak's Southwest Chief, which is interesting, but a far cry from the mom & pop style diners as depicted in
American Graffiti
and
Happy Days
.
Then there's el' Bambi Café in Beaver, Utah. What's the difference(s) between a diner and a café? Is a café nothing more than a ghostly truck stop stranded on the business loops of forgotten towns that have been by-passed by super highways? Not if they have interesting furniture, artwork, a respectable candy display, and a counter full of old-timers spreading local gossip over their patty melts and peppering their biscuits and gravy with surplus apostrophes that slide out of greasy menus.
And although technically, Harvey's Wineburger in Phoenix is a bar, not a diner, you must know that they serve up the BEST cheeseburgers I've EVER consumed. You'll want to check out Harvey's for yourself the next time you're in the Valley of the Sun (west side of 16th Street just south of Camelback Road).
For many years, I've thought it would be fun to own a diner (as long as I didn't have to work in it). Fortunately, my wife feels the same way, so we decided to decorate one of the rooms in our home following a 50s diner décor. Picking out the furniture was a hoot, but waiting the six weeks for it to be built and shipped wasn't nearly as exciting. Finally it arrived this past weekend and the real fun began.
My suggested first meal of JUMBO candy bars in our diner was out voted 1-1. Instead, we broke in the new table, booth, and chairs with meatloaf, mashed potatoes, some tiny yellow vegetables called "corn", and applesauce. We celebrated with chocolate malteds while the cats looked on in confusion and, of course, curiosity.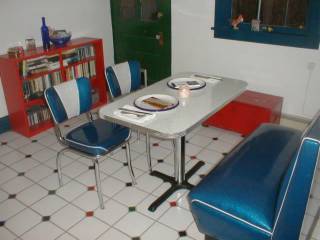 I'm looking forward to adding intriguing artwork to the room and inviting guests to stop in for a grilled cheese sandwich and a brown cow. You'll want to make sure you bring some spare change though, as one of my top priorities is to add a gumball machine to the room.
Is there a diner in your neighborhood that you frequent? Is there a diner so special that you go out of your way to visit every chance you get? Any memories of diners that no longer exist?